top 5
Top 5 de livros mais antecipados de 2016!
13:50
neo
Antes de tudo: não, essa lista não é uma para livros lançados em 2016. É apenas os cinco livros que estou mais ansiosa para ler
em
2016, não importa quando foram lançados.
Ano passado, os 5 livros mais antecipados de 2015 para mim foram
Mage's Blood
(David Hair), que eu comecei a ler, mas não terminei porque achei um tanto chato,
Dragon's Path
(Daniel Abraham), que eu gostei, mas não tanto quanto esperava (
resenha aqui
),
The Mirror Empire
(Kameron Hurley), que se tornou o melhor do ano pra mim (
resenha aqui
),
The Goblin Emperor
(Katherin Addison), que eu também gostei, mas também não tanto quanto eu esperava (resenha em breve), e
The Fifth Season
(N.K. Jemisin), que eu acabei não lendo.
Esse ano, os 5 livros mais antecipados pra mim são:
(Olha, não vou traduzir sinopse não. É um saco, e eu to morta de preguiça, so...)
Victor and Eli started out as college roommates—brilliant, arrogant, lonely boys who recognized the same sharpness and ambition in each other. In their senior year, a shared research interest in adrenaline, near-death experiences, and seemingly supernatural events reveals an intriguing possibility: that under the right conditions, someone could develop extraordinary abilities. But when their thesis moves from the academic to the experimental, things go horribly wrong. Ten years later, Victor breaks out of prison, determined to catch up to his old friend (now foe), aided by a young girl whose reserved nature obscures a stunning ability. Meanwhile, Eli is on a mission to eradicate every other super-powered person that he can find—aside from his sidekick, an enigmatic woman with an unbreakable will. Armed with terrible power on both sides, driven by the memory of betrayal and loss, the archnemeses have set a course for revenge—but who will be left alive at the end?
Em 2015 eu li
Um Tom Mais Escuro de Magia
da V.E. Schwab e apesar de ter gostado, não foi um livro que entrou para minha lista de favoritos.
Vicious
, no entanto, é por muitos considerados sua melhor obra, então mal posso esperar para lê-lo.
4: Truthwitch (Susan Dennard)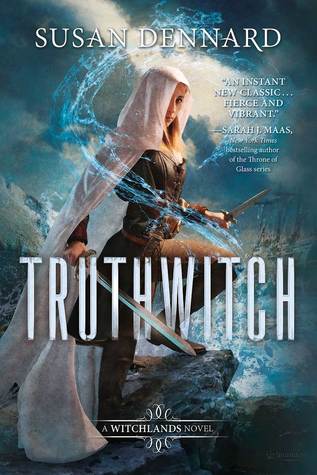 On a continent ruled by three empires, some are born with a "witchery", a magical skill that sets them apart from others.
In the Witchlands, there are almost as many types of magic as there are ways to get in trouble—as two desperate young women know all too well.
Safiya is a Truthwitch, able to discern truth from lie. It's a powerful magic that many would kill to have on their side, especially amongst the nobility to which Safi was born. So Safi must keep her gift hidden, lest she be used as a pawn in the struggle between empires.
Iseult, a Threadwitch, can see the invisible ties that bind and entangle the lives around her—but she cannot see the bonds that touch her own heart. Her unlikely friendship with Safi has taken her from life as an outcast into one of reckless adventure, where she is a cool, wary balance to Safi's hotheaded impulsiveness.
Safi and Iseult just want to be free to live their own lives, but war is coming to the Witchlands. With the help of the cunning Prince Merik (a Windwitch and ship's captain) and the hindrance of a Bloodwitch bent on revenge, the friends must fight emperors, princes, and mercenaries alike, who will stop at nothing to get their hands on a Truthwitch.
Apesar de ter muitas coisas que me atraem em
Truthwitch
- amizade entre garotas como foco principal da narrativa sendo uma delas - devo admitir que uma boa parte da minha vontade de ler essa história vem do marketing da autora, que é sinceramente um dos melhores que já vi.
3: Black Wolves (Kate Elliott)
Twenty two years have passed since Kellas, once Captain of the legendary Black Wolves, lost his King and with him his honor. With the King murdered and the Black Wolves disbanded, Kellas lives as an exile far from the palace he once guarded with his life.
Until Marshal Dannarah, sister to the dead King, comes to him with a plea-rejoin the palace guard and save her nephew, King Jehosh, before he meets his father's fate.
Faz um bom tempo que eu venho querendo ler um livro da Elliott, e por muito meu plano foi começar por uma de suas séries mais antiga (se não for a mais antiga), Crown of Stars, mas Black Wolves foi lançado há pouco tempo e as resenhas até agora são extremamente positivas, então por que não?
2: The Fifth Season (N.K. Jemisin)
This is the way the world ends. Again.
Three terrible things happen in a single day. Essun, a woman living an ordinary life in a small town, comes home to find that her husband has brutally murdered their son and kidnapped their daughter. Meanwhile, mighty Sanze -- the world-spanning empire whose innovations have been civilization's bedrock for a thousand years -- collapses as most of its citizens are murdered to serve a madman's vengeance. And worst of all, across the heart of the vast continent known as the Stillness, a great red rift has been torn into the heart of the earth, spewing ash enough to darken the sky for years. Or centuries.
Now Essun must pursue the wreckage of her family through a deadly, dying land. Without sunlight, clean water, or arable land, and with limited stockpiles of supplies, there will be war all across the Stillness: a battle royale of nations not for power or territory, but simply for the basic resources necessary to get through the long dark night. Essun does not care if the world falls apart around her. She'll break it herself, if she must, to save her daughter.
Como não deu tempo de ler The Fifth Season em 2015, cá está ele de novo na minha lista de mais antecipados para 2016. Confesso que o que mais me chama a atenção nessa história é a ideia de um mundo morrendo - é um tema que gosto bastante e que está presente na maior parte das coisas que escrevo.
1: Kings Rising (C.S. Pacat)
Damen's identity has been revealed, and now he must face his master, Prince Laurent, as Damianos of Akielos, the man Laurent has sworn to kill. The struggle that ensues takes them deep into Akielos, where they face their most dangerous opposition yet.

On the brink of a momentous battle, the future of two kingdoms hangs in the balance. In the south, Kastor's forces are massing. In the north, the Regent's armies are mobilizing for war. Damen's only hope is in an alliance with Laurent, against their usurpers. But even if the fragile trust that they have built survives the revelation of Damen's identity—can it stand against the Regent's final, deadly play for the throne?
Surpreendendo literalmente ninguém, meu livro mais antecipado de 2016 é Kings Rising, o terceiro (e último) volume da série. Eu adorei Captive Prince e Prince's Gambit quando os li em 2014, e junto com Aprendiz de Assassino foram os únicos livros nos últimos quatro ou cinco anos que entraram para minha lista de favoritos.
Os outros livros que (provavelmente) lerei em 2016 estão
aqui
. Esse ano estão lendo apenas mulheres e pessoas não-cis, mas ainda não decidi se essa restrição vai se aplicar a pedidos de parceria.
Bem, é isso. E para vocês, quais os livros mais antecipados de 2016?